October Inspired Wellness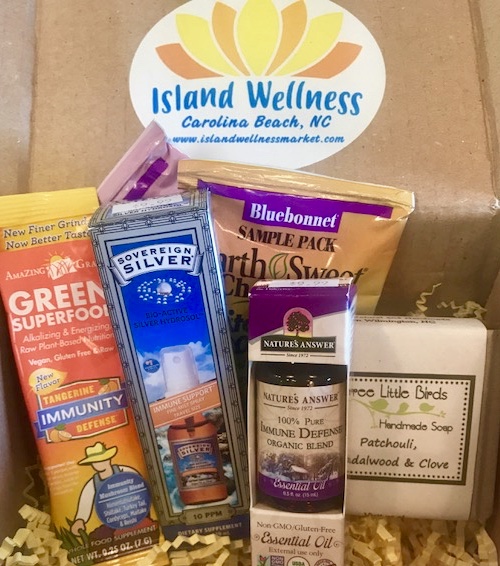 Keep your Immune System Strong!
We are so excited to officially launch and ship our first Inspired Wellness Subscription Box! This idea has been brewing for a while and has been so much fun to put together. After feeling a little stuck and stagnant for most of this year, putting thought and care into this sweet little box of goodies has sparked my creativity and passion once again. Each item was hand picked with the intention of introducing various items to our customers near and far to inspire wellness of body, mind and soul. We are honored to inspire you on your path to more health and happiness!
For our first box, we wanted to provide a sampling of things that we love and represent what we're all about. And in keeping with the season, this month's box includes goodies to keep your immune system strong! Here's what the October box includes:
Sovereign Silver Spray: Silver has been used for centuries to safeguard human health. Bio-active Silver Hydrosol is an amazing dietary supplement for boosting the immune system and supporting the body's innate healing process. This 1oz travel size is great to keep in your car or purse or to carry along on any adventure. Take internally for short and long term immune support, or spray topically to help heal minor skin irritations and infections. Safe for kids and pets too!
Nature's Answer Immune Defense Blend: We love essential oils. Not only do they smell amazing, but they also have healing properties. This blend contains cinnamon, orange, lemon, eucalyptus, clove and rosemary. Diffuse it throughout your home to get the clearing benefits or put a few drops on a tissue and breathe it in. Dilute with lotion or carrier oil (such as jojoba or coconut) to absorb into the skin and bloodstream. If you're feeling stuffy, dilute and rub on the bottoms of your feet before bed to help stimulate the immune system.
Locally Made Soap from Three Little Birds: Our boxes will always include a locally made item, and this is one of our favorites. Three Little Birds is a small business owned by 2 local moms. Their soaps are handcrafted from scratch; no pre-made bases, no animal testing, cold pressed in small batches using high quality natural and organic ingredients, environmentally friendly packaging, and they smell amazing! What more could you ask for? Bonus: the clove oil in the soap in the October box is antibacterial, antiseptic and good for prevention of disease and infection.
Green Superfood Immunity Blend by Amazing Grass: This tangerine flavored packet of deliciousness is a powerful blend of nutritious greens, phytonutrient-packed fruits and veggies, digestive enzymes and probiotics. Not only does it help you get your daily dose of greens, it also contains 1000mg of Vitamin C and a medicinal mushroom blend for immune support. Add to a smoothie or just mix with water and drink up!
We hope you enjoy trying out each of the products we've chosen as much as we enjoyed putting it together. And if you missed out on this box, be sure to place your order for the November box by October 20th or check our our online store to purchase some of the items individually. The November Inspired Wellness Box will be focused on Gratitude. We all need a little inspiration sometimes. We all deserve to live healthy and happy. Get inspired and inspire the world!